Warm and Dead is the thirteenth episode of the first season and the 13th overall episode of Chicago Fire.
A troubled Chief Boden goes to the police when a man dies in a hardware store fire set by Ernie, the troubled teenage firebug he's been trying to help, and his Uncle Ray. Meanwhile, Severide decides on his future and reaches out to his father. Elsewhere, Otis finds camaraderie when he fills in for a few shifts at the slowest firehouse in the city, and makes a decision of his own, while Dawson and Shay find themselves in a bad predicament during a call to a tenement apartment.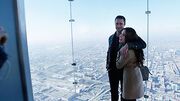 In the throes of new love, Renee and Severide are excited to start their lives together in Madrid. But before they leave, Renee has a confession to make: she met a doctor who performs an experimental new spinal surgery and he's very interested in meeting Severide. Severide takes the meeting, but is thrown for a loop when he learns that partial paralysis is a possibility. That's just not a risk worth taking.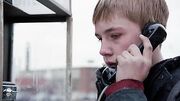 Chief Boden gets a phone call from the firebug, Ernie. Ernie tells Boden he's in trouble, but is too nervous to give him his location, hanging up the pay phone and taking off. Shortly after, the firehouse gets another call for a dumpster fire, which was clearly Ernie's doing yet again. Boden feels helpless, wanting to help Ernie but not knowing how.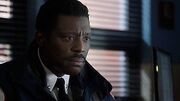 Severide pays a visit to the station and breaks the news: he's moving to Madrid. Everyone's shocked, but they do their best to be supportive of Severide's decision. Shay later approaches Severide, alarmed that she was the last to find out about her best friend moving away. Severide claims he's only known for a few days; it's no big deal.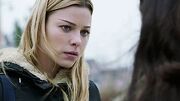 Shay's pregnant ex-girlfriend Clarice shows up at the station with a cup of coffee and some news: she moved out. She and her husband are over. Shay insists that Clarice move in with her, refusing to take no for an answer. Is Shay ready to let Clarice back into her life?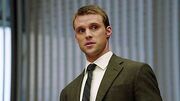 Casey has breakfast with Dawson, sharing his nerves about his mother's upcoming parole hearing. Dawson provides her support and insists that she go with him. At the hearing Casey gives a moving speech on behalf of his mother, admitting that it's time for forgiveness - from all of us. Casey's sister is moved to tears by his plea and surprises the court by not speaking out against her mother. Casey's mother is granted parole under one condition: she needs to be in a stable household. And that means that she'll be moving in with Casey.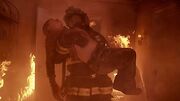 The firehouse gets a call that Boden's been fearing - Ernie's house. And when they arrive on the scene, the place is up in flames. Boden storms in and finds that Ernie's room has been jammed shut with a chair. After bursting in, he discovers Ernie's lifeless body trapped in the closet. He carries out poor Ernie, and despite the EMT's efforts, they're just too late. Boden is completely heartbroken; clearly, this was both arson and an act of murder.
Boden is fueled by rage and he tracks down Ernie's uncle, which leads to a high-speed car chase. Boden corners the man and gives him a beating, apprehending him until the police arrive. Though his actions were noble, they certainly weren't legal; Boden's not a police officer after all. He could be in serious trouble for battery.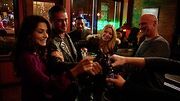 Severide meets Shay for a drink and sincerely apologizes for his behavior. She should have been the first to hear about his skipping town. Shay forgives him, and they two enter the bar to find a surprise party for Severide! The party certainly has its memorable moments - Shay confesses her love for Clarice and they share a kiss; Dawson and Mills sneak away for a private make out session.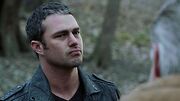 Amidst the party chaos, Severide manages to sneak out on a mysterious errand. He arrives at a hunting campsite, to exchange goodbyes with none other than his father! Severide's dad is clearly disappointed with his son's decision. He tells Severide that there's no replacing Rescue Squad, and not doing the surgery is something he'll regret forever. Severide knows his father is right and after a night of intense consideration, he decides to stay in Chicago and do the surgery. The next day, he shares a tearful goodbye with Renee, who is devastated but understanding of his decision.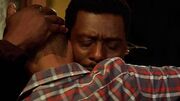 In the wake of Ernie's death, Boden decides it's time to finally confront his past head on. He arrives at the home of his ex-wife, asking to see his stepson. Despite her refusal, he insists that he is his true father; he raised the boy since he was three. She hears his plea, and Boden and his son share an emotional reunion.
Main Cast
Edit
Guest Stars
Edit
Sarah Shahi as Renée Royce
Nicole Forester as Christie
Ron Dean as James Whoritsky
Cody Sullivan as Ernie
Alec Baldwin as Severide's Father
Tom Hanks as Royce's Father
Treat Williams as Benny Severide
Shiri Appleby as Clarice Carthage
Co-Guest Stars
Edit
Brett Snow as Engine Fireman Brett
Darrell W. Cox as Uncle Ray
Dushon M. Brown as Assistant
Mike McNamara as Jim
William Smillie as Hadley
Amy Newbold as Nurse
Antoine Whitfield as Baby
Brian McCartney as Goodwin
Cedric Young as Dep. District Chief Arend
Chris Agos as Dr. Doriot
Jason Wells as Parole Board Member
Juan Lozada Jr. as Jimmy
Kevin Caseyas Hoover
Kevin Miller as Wilcox
Matt Kozlowski as Fortenberry
Matt Young as Man #1
Patrese McClain as Angela
Sam Zerante as Terry
Shanesia Davis Williams as Shonda
Steve Chikerotis as District Chief Walker
Terry Berner as Man #2
William Burke as Roman
Episodes
References/Sources
Edit
Community content is available under
CC-BY-SA
unless otherwise noted.