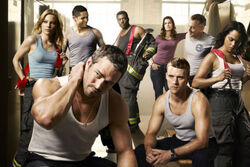 We don't know much about what to expect with
Chicago Fire
. The
Pilot
episode premieres a week from today, Wednesday October 10th at 10/9c, on NBC. However, it's currently possible to watch the pilot episode online
if you click here.
I'm not sure how much longer it will be available on NBC.com, so watch it while you still can. I can tell you right now, the pilot starts off with A LOT of action. The first 12 minutes alone include a house fire, the aftermath of a gangbanger gun battle, and very intense car crash scene on a bridge.
The premiere also features the real mayor of Chicago, Rahm Emanuel, playing himself. He told the press, hopefully in jest, that acting as mayor in a show is much more difficult than actually being the mayor. He agreed to make the appearance under one condition: that the TV show puts up a donation to the Firefighters' Widows and Orphans Fund.
Anyway, the easiest way to know if you're going to like this show would be to watch the pilot, but other than that, here are some notes to help you out:
The cast is extremely good looking.
If you enjoyed the original Miami Vice, Crime and Punishment, and the Law & Order franchise, you will probably like Chicago Fire. It's creator, Dick Wolf, also created those series.
The cast's firefighting skills aren't completely phony. They had to go through a series of training, which you can learn more about by watching this clip.
The show is actually filmed in Chicago, and scenes take place all over town. If you're a fan of the Windy City, it's definitely cool to watch.
If you loved Sex and the City, well, if you loved Miranda's man Steve Brady from Sex and the City, then you're in luck. That actor, David Eigenberg, is a major character in Chicago Fire.
If you loved Robert Chase from House, you're in luck, because Jesse Spencer is the main character in Chicago Fire.
Are you going to watch Chicago Fire?
Community content is available under
CC-BY-SA
unless otherwise noted.