Under the Knife
Season 1, Episode 12

Air date
January 9, 2013
Written by
Matt Olmstead
Ryan Rege Harris
Directed by
Alex Chapple
Runtime
42 minutes
Episode Guide
previous
"God Has Spoken"
next
"Warm and Dead"
Under the Knife is the twelfth episode of the first season and the 12th overall episode of Chicago Fire.
Severide finally addresses Chief Boden about his injury and makes some important personal decisions about his future. Meanwhile, Casey struggles with family matters and Dawson takes matters into her own hands when she discovers a young girl who is the sole survivor at the scene of a rescue call.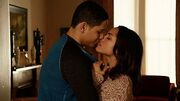 Dawson is surprised to wake up and find herself naked and tangled in the sheets. She emerges to the kitchen to find none other than a chipper Peter Mills whipping up some breakfast. She feels awkward about the night before, immediately chalking it up to that bottle of wine they polished off. Mills quickly catches on to her charade and tells her that no one at work will find out about them hooking up, assuring her that "this is our thing, no one else's." Dawson is immediately put at ease and pulls Mills into an intense kiss.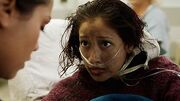 The team arrives to a particularly disturbing scene: a truck container filled with dead and decomposing bodies of immigrants from the Mexican border. Among the dozens, they discover one young girl alive, who's rushed to the hospital for hypothermia and serious malnutrition. Dawson shares a bond with the young girl, as hearing Dawson speak her native tongue is the only comfort the girl can find in the midst of the madness. Dawson hopes that even though she's undocumented, immigration will take pity on the 16-year-old girl, considering the horrific circumstances of her arrival to the States. She slips Dawson the phone number of her uncle who lives in Chicago, whom Dawson contacts for her.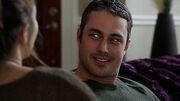 At Shay's insistence, Severide finally comes clean to the chief about the state of his shoulder. Boden is glad Severide decided to come forward, even if it was much later than he should have. He tells Severide that nothing is certain until he sees their doctor who can give the official diagnosis and dictate how to move forward, and until Severide's appointment, Boden has no choice but to put him on leave. Enraged at the prospect of missing work, Severide tears off in his Camaro.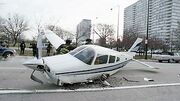 The team arrives at a shocking scene: an airplane crash in the middle of a residential street. The pilot of the small plane was a senile old man who clearly shouldn't have been flying. He emerges unscathed, but the passengers of a nearby minivan aren't so lucky. Additionally, a man working on electrical wires seems to have ended up through the window of a nearby home as a result. It's all hands on deck as the team does their best to revive the electrician and pry the one living victim from the minivan.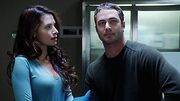 Things are escalating quickly between Severide and his new flame Renee, and she provides her emotional support when he goes to the doctor to find out the real diagnosis of his shoulder condition. As it turns out, the spinal fracture is worse than they previously thought, and his recovery time will be a year at best, not six months. In fact, the doctor claims that she's never seen anyone return to full duty after a procedure like this. Severide should grow comfortable with the idea of taking on an administrative position from here on out. This news hits Severide like a hammer; his entire world is crushed.
Dawson learns that the young refugee, Rosa, is getting deported because she's 16. Just a year younger and she would have been eligible for refugee status. Since there's no documentation of Rosa's real age other than Dawson's word, she decides to stick her neck out for the young girl. With Matt's help, she tells the chief that she misheard Rosa when she told Dawson her age; she's actually turning 16 but isn't 16 yet. It was an innocent mistake! Her trick works, and a very grateful Rosa is reunited with her uncle.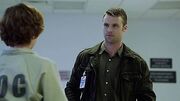 Family tensions are high for Casey as his mother's parole hearing nears. He pays a visit to her in jail before the hearing to sort out the details. Really, it all comes down to the house key that Matt left on the kitchen counter that fateful day when his mom entered his father's home and shot him dead. Matt's mom wants Matt to testify that he left out the key because he secretly wanted his father dead. This brings up old issues and sends Matt reeling, as he storms out. His mother backpedals, apologizing for even suggesting he say that, but it may be too little too late.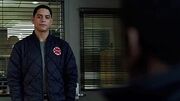 Despite Mills and Dawson's agreement to keep things a secret at work, Boden catches wind of sexual tension between the two and attempts to nip the relationship in the bud. He pulls Mills into his office, explaining that it is best if he puts his personal relationships aside the first two years to focus solely on the job; he's still a candidate after all. Mills tells Boden, respectfully, that his personal relationships are his business, but Boden still won't have it. He sternly tells Mills that someone more concerned with chasing ass than respecting his job will receive no respect from him. The message seems to finally be clear - the question is, did Boden properly scare Mills straight?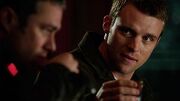 The news of Severide's condition rocks the station, and Severide has yet to return and face reality. He meets Casey at a bar for a drink, somberly telling him that he's decided to move to Madrid to be with his new girlfriend Renee after his surgery. Not just for recovery, but permanently. Casey is shocked, but congratulates Severide on his new life ahead and wishes him the best.
Main Cast
Edit
Guest Stars
Edit
Jeff Lima as Leon
Sarah Shahi as Renée Royce
Nicole Forester as Christie
Victor Slezak as Rick Savrinn
Co-Guest Stars
Edit
Eliza Shin as Dr. Brenner
William Smillie as Hadley
Bella Lopez as Rosa
Bryan Conner as Knox
Henry Godinez as Ernesto
Kamal Angelo Bolden as Gere
Lacy Katherine Bell as Dr Kessman
Mateo Smith as Cop
Maury Cooper as Chuck
Tory O. Davis as Travis
Uncredited
Edit
Episodes
References/Sources
Edit
Community content is available under
CC-BY-SA
unless otherwise noted.