Retaliation Hit
Season 1, Episode 21

Air date
May 1, 2013
Written by
Matt Olmstead
Hilly Hicks, Jr.
Directed by
Jean de Segonzac
Runtime
43 min
Episode Guide
previous
"Ambition"
next
"Leaders Lead"
Retaliation Hit is the twenty-first episode of the first season and the 21st overall episode of Chicago Fire.
Detective Voight returns, looking to collect on the favor that Dawson owes him for helping her brother, Antonio. Casey falls back into old patterns in his personal life, while Dawson, Herrmann and Otis become the proud owners of a real neighborhood bar as Molly's prepares for its grand opening.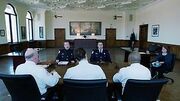 Severide attends a hearing with a CFD ethics board regarding assault allegations filed against him by the station's former EMT-in-training, Tara Little. Severide believes that the charges are ludicrous, but Mouch assists in ensuring that Severide doesn't hamper the investigation by saying more than he needs to right now. Either way, it's an ordeal that Severide is not happy about.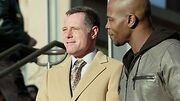 Casey and Hallie meet for a cup of coffee and a chance to catch up. Hallie gets caught up on the firehouse gossip and casually mentions that she's not seeing anyone. Casey mentions that Curtis, the guy who helped him execute the sting on Voight, was murdered recently. Meanwhile, Voight has pulled enough strings to get himself out of prison.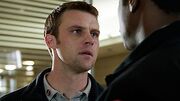 Back at the station, Boden announces that, as a result of the allegations filed against Severide, the entire station must undergo mandatory sexual harassment training. In the locker room, Mills tells Severide that he's happy to help in any way he can, but the other squad members see the offer as an attempt by Mills to kiss up to Severide. Before the crew heads out on a call, Boden tells Casey the news: Voight is out of prison.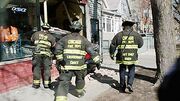 The firefighters arrive on the scene to find that a car's driver, who has suffered a severe head injury, has driven his vehicle through the wall of a convenience store and the shop's owner is pinned beneath wreckage. They spring into action, jacking the car up to pull the shop owner to safety. Casey crawls into the car through the back windshield, disables the engine, and the team pulls the driver from the car for medical attention.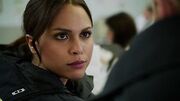 Afterward, Severide is tempted to call his accuser to set up a face-to-face meeting, but Mouch strongly advises against it. Dawson receives a call from Voight. She doesn't answer, but a voicemail suggests that Voight is trying to call in a favor from Dawson. Meanwhile, the firefighters have trouble taking their sexual harassment training seminar seriously.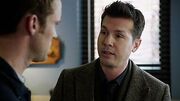 In Chief Boden's office, Casey and Dawson's brother, Antonio, go over the details surrounding Voight's release from prison. Antonio insists that Voight is still dirty and that Casey needs to watch his back. Boden tells Casey not to get drawn back into a confrontation with Voight. Dawson tells Casey about the call from Voight, and Casey advises her to avoid handling Voight by herself.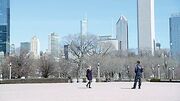 Contrary to Mouch's advice, Severide arranges to meet with Tara to discuss her sexual assault allegations. Tara tells Severide that if he apologizes on record she will drop the charges, but Severide refuses, claiming that he didn't do anything wrong. Meanwhile, Antonio tells Dawson that he'll take care of Voight.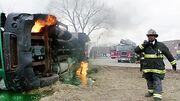 At the scene of a big rig accident, the truck is leaking volatile chemicals. Boden calls for a foam truck, and the Squad team suits up to rescue the driver, who is still stuck in the truck's cab. Severide tells his team to rig up a harness, but they aren't comfortable with the equipment. Mills springs to action and rigs up a special harness, saving the day and fueling jealousy in the other Squad members.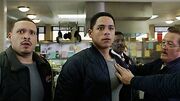 While the firehouse staff is finishing their sexual harassment training, Squad member Hadley pulls a hazing prank on Mills, switching his chili out with dog food. Mills becomes enraged, and a fight nearly breaks out in front of the training officer. Later, as a result of the stunt, Boden transfers Hadley to another firehouse.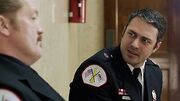 Antonio meets with Voight and warns him to stay away from Dawson and Firehouse 51, but as usual, Voight doesn't seem intimidated. At the courthouse, Mouch tells Severide that his meeting with Tara created more problems. Now the board is looking into Severide's entire history, including investigating his short-lived relationship with Nikki.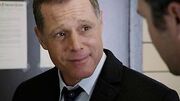 Casey stops by Hallie's new apartment for a visit. Over a glass of wine, the two discuss their past, and eventually the friendly conversation moves to the bedroom, where they rekindle their romantic relationship. Meanwhile, on his way out of the courthouse, Severide runs into Voight. Voight tells Severide that he's already been reinstated into the Chicago Police Department.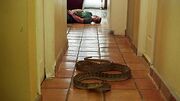 Nikki's father, Chief Retkowski, stops by the station to notify Boden that he's testifying against Severide. Boden tells the Chief that their friendship is over. Shay and Dawson respond to a call where a snake owner has been bitten by his pet viper, which is now preventing the EMTs from getting to him. Dawson overcomes her tremendous fear of snakes to herd the reptile into a bathroom, allowing her and Shay to rescue the owner.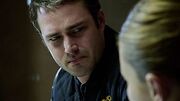 At the firehouse, Mouch informs Severide that his case is being reviewed by the state board. If they find the charges believable, then they'll press formal criminal charges against him. Severide laments to Shay, telling her that she's the only person in the world he can trust anymore.
Later that night, the grand opening of Dawson, Otis and Herrmann's bar is in full swing. The place is crowded and the patrons are happy. Casey arrives with Hallie on his arm, surprising Dawson. Suddenly, without warning, Voight shows up and offers to make amends with the entire firehouse. Antonio tells Dawson that Voight is in charge of his department now. Nobody accepts Voight's apology, knowing that he's more dangerous than ever.
Main Cast
Edit
Guest Stars
Edit
Co-Guest Stars
Edit
Brooke Nevin as Tara Little
Uncredited
Edit
Episodes
References/Sources
Edit
Community content is available under
CC-BY-SA
unless otherwise noted.