Professional Courtesy
Season 1, Episode 3

Air date
October 24, 2012
Written by
Matt Olmstead
Directed by
Joe Chappelle
Runtime
43 minutes
Episode Guide
previous
"Mon Amour"
next
"One Minute"
Professional Courtesy is the third episode of the first season and the 3rd overall episode of Chicago Fire.
Lieutenant Casey is forced to make a difficult decision about whether or not he wants to report bad-cop's Detective Voight's son for DUI. Kelly Severide finally makes an appoinment to see the doctor about his injured arm which turns out to be a fractured vertebra. Peter Mills finds that sharing his time between his mom and her restaurant and his own job difficult.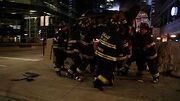 Just when the guys think they're about to get away with a full shift with no calls, a call comes in for a car accident. When they arrive on the scene, a van has been flipped over and is barely balancing on the edge of a bridge, containing a young boy and father inside. The other car involved has gotten off relatively easy, and it's clear the driver is the cause of the accident when Casey notes alcohol on his breath and open containers in his car. The policeman on the scene notes it and agrees to take care of booking the driver. But when Casey returns after the father and son have been escorted to the hospital, he finds that the man responsible is nowhere to be found. Apparently, the driver is the son of one Detective Voight, a cop who has a lot of clout in Chicago. A man like Voight is one to make sure his son doesn't get mixed up in this kind of mess.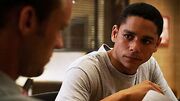 The guys have a serious situation to take care of at the station: their TV is broken, and the Bears game is this Sunday. Candidate Peter Mills is put in charge of finding a solution and suggests that they set up a T-shirt stand out in front of the station. With Nikki manning it, it's sure to be a success. Peter gets a rare moment of validation from the guys for his winning idea. Plus, after a flirtatious exchange with Dawson in the bathroom, things seem to be going pretty well for Peter.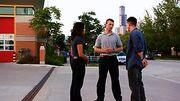 Casey asks Dawson for a favor, asking if her police officer brother can swing by for a word of advice. The three have a chat, and Casey explains his dilemma with Voight. At the sound of his name, Dawson's brother cringes; Voight is known for taking bribes and has been deeply involved with the gangs for 15 years. He's what they call a dirty cop, and he's definitely not someone you want to get involved with.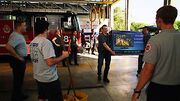 Hallie pays Casey a visit from the hospital with some upsetting news: the boy involved in the car crash was paralyzed from the waist down. This weighs heavily on Casey, not making the decision about whether or not to come forward with the truth any easier. Later, a brand new TV donation arrives at the station on behalf of Detective Voight - looks like their TV problem is solved! But Casey coldly demands that the TV be returned, refusing to offer up any explanation.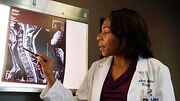 At the site of another accident, Severide gets a shaky hand in a compromising moment, and Shay takes notice. She feels that Severide's trying to ignore a serious issue he may have with his arm and practically forces him into an off-the-record consultation with a doctor friend of hers. It turns out that Severide has a small fracture in his spine. He's lucky he can feel pain at all right now, but there's a surgery that can take pressure off the nerve. Severide's resistant; this could put him out of work for years. But without the surgery, he can expect deterioration of many of his motor skills altogether.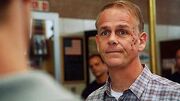 The father of the paralyzed victim visits, baked goods in hand, to thank the men for their hard work. But really he has ulterior motives for visiting - something was very wrong with the police report. It claimed he ran a red light and was the cause of the accident, but he knows for a fact that that wasn't the case. Seeing this poor man in his fragile state, Casey's overcome with guilt and comes to Boden with his altered account of what happened that day. Boden supports him fully, shaking Casey's hand and telling him that "leaders lead from the front."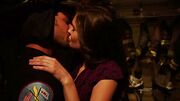 Nikki has her sights set on Severide, and she's not going to give up without a fight. Despite his resistance to her numerous advances, he finally caves and meets up with her for a steamy hookup in the supply closet. They almost get walked in on by Nikki's father, who catches wind of what's going on between the two. He later shows up at Severide's apartment letting him know that whatever's going on between them needs to stop; Nikki's engaged. Severide gets the message loud and clear.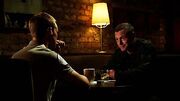 Detective Voight catches wind of Casey's new report and tracks him down, suggesting that the two go get a drink. Voight explains the situation to Casey; his son's a good kid, he's just gotten himself into one-too-many messes. If he gets charged for this DUI, he'll end up in jail for years. Why ruin two lives instead of just one? When Casey refuses to budge, Voight threatens Casey, saying that he's not to be messed with. Boden arrives at the bar to provide Casey with some backup, and a vengeful Voight makes his exit.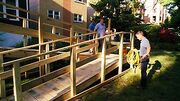 The guys manage to raise over 300 dollars to buy themselves a new TV. But Casey, always the do-gooder, has a better idea for what they can do with that money: build a wheelchair accessible ramp for the victim's house. Later, Casey talks to Dawson, asking her if she thinks he did the right thing in telling the truth about Voight's son. The two share a tender moment when Dawson explains that, were she in his position, she knows she wouldn't be able to look Casey in the eye if she hadn't told the truth. And that's all the validation that she needs.
Main Cast
Edit
Guest Stars
Edit
Co-Guest Stars
Edit
Randy Flager as Capp
Guy Van Swearingen as Al Tomczak
Philip Earl Johnson as Greg Duffy
Al Michaels as Voiceover
Karen Alderidge as Dr. Kendra
Adam Tanguay as Officer Sobek
Nick Vidal as Haashole
JJ Philips as Nippy
Jeff Garretson as Hix
Parker Mack as Mike Duffy
Joe Sinopoli as Justin Voight
Eliza Shin as ER Doctor
John Gawlik as Officer Moosekian
Uncredited
Edit
Anne Lockhart as Dispatcher (voice)
Episodes
References/Sources
Edit
Community content is available under
CC-BY-SA
unless otherwise noted.