This article is a bit messy!

This article needs to be cleaned up. Please help Chicago Fire Wiki by checking spelling, grammar and editing other helpful things to make the article look better.
Leslie Shay was a paramedic with the Chicago Fire Department who was assigned to Ambulance 61 at Firehouse 51. She was portrayed by Lauren German.
History
Leslie originally came from Firehouse 87. She was a lesbian, something Peter Mills discovered when the other firefighters tricked him into making a pass at her. She was previously in a three-year relationship with a woman named Clarice Carthage, who eventually left her, and ended up marrying and having a child with a wealthy man named Daniel Schwartz. This seems to have instigated the commitment issues she has.
Leslie was killed in the line of duty on May 13, 2014 after injuries she sustained in a partial building collapse.
Season 2
In "A Nuisance Call", she and Dawson are called out to Darryl, a regular caller's, house to help him with his insulin injection, something he could easily do himself. They're both annoyed at him, and he is obviously infatuated with Shay. He pulls out a gun in the middle of the call, and Dawson tries to get him to put it down by yelling at him, but Leslie takes a different approach, telling him that she's in love with him too, and they can go to elope in Las Vegas if he puts down the gun. Both of their approaches fail and he shoots himself in the head in front of them, blood splattering over both of them. This affects Shay and Dawson differently, with Shay becoming despondent and withdrawn, causing an argument where Dawson pulls rank and they both declare their friendship over.
She is later seen drunk with Otis, saying it was great that he moved in, and laughs with him until she starts sobbing. Otis agrees to keep her breakdown secret from Severide, and she walks away.
Death of Leslie Shay
In reference to the episode: "Real Never Waits".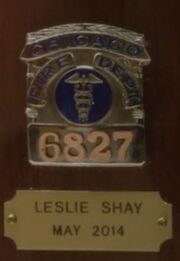 Chief Boden's wedding ceremony is interrupted when Firehouse 51 is called to a building fire. Shay and Dawson follow Squad 3 into the building, where they find an injured man and begin administering care. Dawson tells Shay to take the lead during this case since she would have to be in charge after Dawson leaves, causing them to switch places. Right after they switch places, Dawson tells Shay about Casey's possible proposal. Shay admits knowing about it, and during this conversation, an explosion occurs in the building. A collapsing pipe fatally hits Shay on the head while Dawson gets blown back. When Severide arrives on scene, he sees Dawson doing chest compressions on Shay and leaps in to help. Despite their efforts, Shay ultimately dies.
It is later found out that the fire which caused Shay's death was done by a serial arsonist who was stalking her, Trenton Lamont, who also set the fire that injured Wallace Boden and killed Ross Clayton McGowan and Henry Mills 20 years prior. The storyline in the episode "Real Never Waits" is followed by the Season 3 Episode 13 "Three Bells", which is a crossover with Chicago P.D. Season 2 Episode 13. Lamont is later killed by Antonio Dawson during an attempt to kill Gabriela.
Memorable Quotes
(To Dawson): "It's not too late to switch teams."
(To Daniel about Clarice): "You might want to bring it down a peg because this is your problem. She came to me as a friend, needing a place to stay, so I, as a friend, took her in. I sympathize with what you're going through and I wish I hadn't been brought into this but if you keep coming at me like you're coming at me, I'm gonna tell you to kiss my ass in two seconds."
(To Dawson): "Damn girl, you wear that dress, I'll be your date."
(To Dawson): "I have never been so turned on."
(In flashback of Kelly): "Are we being quiet? Are we being serious ((with lisp))"
Appearances
Shay is also seen during Season 3 in the form of flashbacks, mainly from Kelly. (Always, Call It Paradise, I Am the Apocalypse)
Notes and Trivia
She was born in 1978.
Her sister Megan found out about Leslie being a lesbian in high school when she caught Leslie in her room kissing a girl named Amy-Lou Schmeckle.
She was mentioned in a Chicago PD episode as a partner of Antonio Dawson's sister, Gabriella, after experiencing a terrible call.
Gallery