Fireworks is the eighteenth episode of the first season and the 18th overall episode of Chicago Fire.
Summary
With tensions still running high between Chief Boden and Benny Severide, things boil over when Mills confronts Benny about the fire that killed his father. Meanwhile, Severide, Casey and Benny uncover the truth behind two mysterious diner fires and Shay takes a new direction with her plan to have a baby.
Plot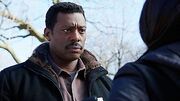 Dawson confronts Chief Boden about his knowledge of Mills' father's death. Boden sternly cautions Dawson to stay out of it. Meanwhile, Severide talks with his father, Benny, over breakfast. Benny is equally reluctant to reveal any information to Severide.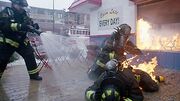 On their first call of the morning, the squad responds to a restaurant fire. On the scene, Severide encounters the building's owner, who believes that someone set fire to his restaurant. Inside the building, a loose ceiling tile falls on Casey, engulfing him in flames. Cruz manages to pull Casey to safety in time. After the flames are extinguished, Otis discovers homemade fire bombs concealed in the ceiling. The fire seems to have been intentional.
Back at the station, Severide tells Boden that Benny wants to come by the station one more time. Boden tells Severide that Benny is not allowed in the station. Severide arranges to meet Benny at a different firehouse to appease Boden's request. Meanwhile, Dawson discovers that Mills has been looking into his father's death.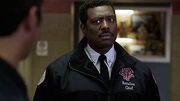 The squad tries to help Shay find a suitable sperm donor, but they're interrupted when Benny shows up with donuts. Boden pulls Benny aside and tells him to stay away from Firehouse 51, but Benny is not intimidated by the Chief. Afterward, Severide encourages his father to show some respect.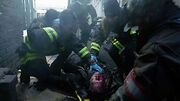 In the bunk room, Shay and Dawson discover Mouch's profile in the sperm donor database. Shay asks Mouch about the process of donating sperm, but they're interrupted when a call comes in. The squad responds to another restaurant fire with the same owner as the last one. Boden is starting to believe the owner's claim that someone is gunning for him. Behind the restaurant, Casey and Severide discover a homeless man who has been badly burned.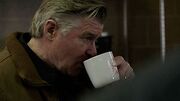 Boden, Casey and Severide decide to investigate the second restaurant fire, and Boden tells them to take Benny along. He may be a jerk, but he's an excellent arson investigator. Mills runs into Benny in the kitchen and asks about his father's death. Before Benny can say anything, Severide interrupts and invites his father to join in their investigation.
Benny and Severide investigate the burnt out restaurant. Benny rules out the homeless victim as the arsonist and determines that the culprit lit himself on fire during the arson. Boden calls the local hospitals and discovers a man who was admitted to a nearby emergency room with severe burns. The man tells Severide that the restaurant owner hired him to light the fires as part of an insurance scam.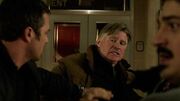 Fed up with searching through sperm donor candidates, Shay asks Severide to donate his sperm so that she can have a baby. Meanwhile, Mills questions Benny again about his father's death, and Benny tells Mills that his father panicked in the middle of a fire, killing himself and another firefighter. Mills is upset by the news and he attacks Benny. Boden suspends Mills until further notice.
Meanwhile, Casey has Darden's widow, Heather, over for dinner and sparks begin to fly, but Casey tells Heather that he's not ready for a relationship with his best friend's widow. On his way out of town, Benny apologizes to Severide for creating problems at the firehouse. Severide visits Mills at his apartment and invites him to join the squad.
Cast
Main Cast
Guest Stars
Co-Stars
Robert Breuler

as

Tuxhorn

Chaon Cross

as Heather Darden

Dan Johnson

as

Omar

Howie Johnson

as

Lou

Tracey Bonner

as Bus Driver

Laura Whyte

as Tuxhorn's Wife
Stunts
Tobiasz Daskiewicz

Ed Fernandez

Jim Fierro

Mike Fierro

Mark Harper

Christian Litke

Tom Lowell

Dan Maldonado

Jim Mammoser

Rich Wilke
Crew
Edited By

Michael Schweitzer

, A.C.E.
Production Designer

Craig Jackson

Director of Photography

Lisa Wiegand

Co-Producer

Carla Corwin

Producer

Hilly Hicks, Jr.

Producer

Tim Deluca

Co-Executive Producer Andrea Newman
Co-Executive Producer

Arthur W. Forney

Produced By

John L. Roman

Executive Producer

Peter Jankowski

Executive Producer Joe Chappelle
Executive Producer Michael Brandt
Executive Producer Derek Haas
Executive Producer

Danielle Gelber

Executive Producer Matt Olmstead
Created By Michael Brandt
Created By Derek Haas
Executive Producer Dick Wolf
Music By Atli Örvarsson
Co-Producer Michael Gilvary
Casting By

Jonathan Strauss

, CSA
Original Casting By

Lynn Kressel

Casting By

Claire Simon

, CSA
Story Editor

Tim Talbott

Unit Production Manager

Carla Corwin

First Assistant Director

Haze JF Bergeron III

Second Assistant Director

Stefan Rand

Costume Designer

Susan Kaufmann

Art Director

Stephanie Gilliam

Assistant Art Director

Dave Krummel

Set Designer

Jessie Haddad

Set Designer

Amy Jackson

A Camera Operator Reza Tabrizi
B Camera Operator

Will Eichler

Sound Mixer

Blair Scheller

Costume Supervisor

Gretchen Gain

Key Make-Up Artist

Debra Dee

Key Hairstylist

Mary Buono

Gaffer

Anthony J. Lullo

Key Grip

Mike Lewis

Special Effects Makeup

James Lacey

Production Accountant

Susan Hayes

Property Master

Billy Dambra

Script Supervisor

DruAnn Carlson

Production Coordinator

Eric Matsumoto

Assistant Production Coordinator

Kimiko Marr

Transportation Coordinator

Billy Hogan

Location Manager

Bob Hudgins

2nd 2nd Assistant Director

Senica Billingsley

2nd 2nd Assistant Director

Michelle Gonsiorek

1st AC A Camera

Luis Fowler

1st AC B Camera

Zach Gannaway

Payroll Accountant

Leslie Wahrenbrock

VFX Supervisor

Scott Rader

SPFX Coordinator

John Milinac

Stunt Coordinator

Rick LeFevour

Construction Coordinator

Tyler Osman

Key Costumer

Vanessa King

Set Decorator

Desi Wolff

Assistant Property

Aaron Holden Jr.

Leadman

Tony Barracca

Boom Operator

Jason Johnston

Best Boy Electric

Donna McClain

Best Boy Grip

Andy Lostumo

Dolly Grip

Mark Purkart

Animal Trainer

Bill Casey

Technical Advisor Steve "Chik" Chikerotis
Technical Advisor

Michele Martinez

Technical Advisor

Roy Dean

New York Casting Associate

Pamella Pearl

Chicago Casting Associate

Shelby Cherniet

, CSA
Background Casting

Joan Philo

Catering

Gala Catering

Craft Service

Shane Thomas

Sound Supervisor

Jeffrey Kaplan

Re-Recording Mixer

Peter Reale

Re-Recording Mixer

Todd Morrissey

Music Supervisor

Stacy Wallen-McCarthy

Music Editor

Chris Newlin

Post Production Supervisor

Leigh Cousins

Assistant Editor

Oscar Rene Lozoya II

Assistant to the Executive Producers

Lydia Mayberry

Assistant to the Executive Producers

Adrian Bassuk

Assistant to the Executive Producers

Kristel Crews

Assistant to the Executive Producers

Kim Rome

Assistant to the Executive Producers

Miranda Iredia

Assistant to the Executive Producers

Kristin Carey

Assistant to the Executive Producers

Perri Eppie

Publicity Coordinator

Daniele Bernstein

Script Coordinator

Kathleen Foshee
Trivia
Mouch is revealed to be a former sperm donor, this will play a key in Season 3.